Been considering Mikkeller Beer Mail or exclusive Beer Club? Click here to get 50% off your first box!
After running a successful food and beer pairing event at the newly opened Wigan Central, I brought my 'Christmas Food, Beer & Festive Cheer' to one of my favourite places two days later; Great Ale in Bolton Market's Lifestyle Hall.
Despite tickets being cheaper, the Bolton event proved to be even better than the original in Wigan. Mostly thanks to the effort of fantastic new owners Steve and Anne and the brilliant Alain, who kindly let me borrow his Nkono kitchen to allow me to produce food on site.
The Great Ale had been looking lovely and festive all month, and Anne – in full Elf attire – had the tables set for our 25 guests by the time I arrived, they looked amazing decked out with crackers and other Christmas decorations.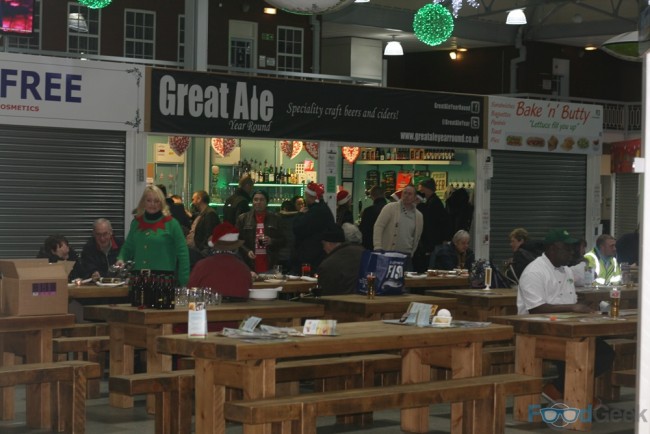 Things were going well in the kitchen too. The first course was ready to be served immediately, 'Christmas Spiced Popcorn' and 'Roasted Chestnuts'.
The popcorn was freshly popped just a few minutes earlier, before being coated in a flavoured sugar mix. I'd made the sugar by blending it with spices like cloves, cinnamon and nutmeg with vanilla, bay and orange & lemon zest. It smelled and tasted just like Christmas!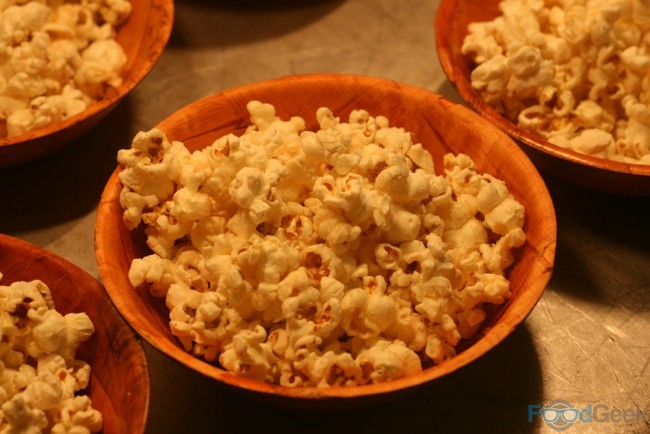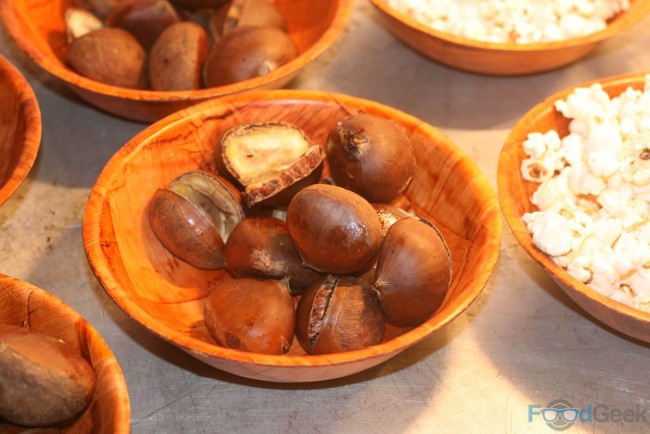 The first beer was 'Mr Trotter's' from Lancaster Brewery. An easy choice considering it's actually brewed with real chestnuts. Naturally it shared a flavour profile with the roasted chestnuts but it also worked well with the popcorn. The nuttiness and slight toffee notes of the beer connected beautifully with the sugary popcorn. And while it has a sweet honey aroma there's a slight bitterness that balanced the sweetness of the popcorn perfectly.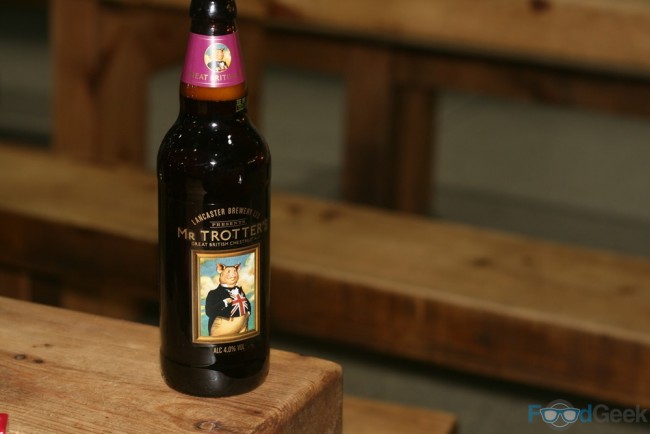 Course two saw one of my favourite Christmas foods paired with one of my favourite beers.
No Christmas dinner is complete without 'Pigs In Blankets'. These were made from two varieties of top quality chipolatas; one made with black pepper and nutmeg, the other a variety of herbs. Both were hand wrapped in smoked streaky bacon with a couple of sage leaves.
They were served with a homemade cranberry sauce; the same recipe I use at home on Christmas Day. There's a bit of sweetness in there but a real sharpness too that cuts through the fat of the meat. It also contains some wonderful festive flavours like cinnamon, orange and port.
The beer was a 'Smoked Porter' from one of Manchester's best up and coming breweries 'Runaway'. As the name suggests it has a smokiness that compliments the sausages and particularly the smoked bacon brilliantly. There's just a hint of berry flavours too, a little nod to the cranberry sauce.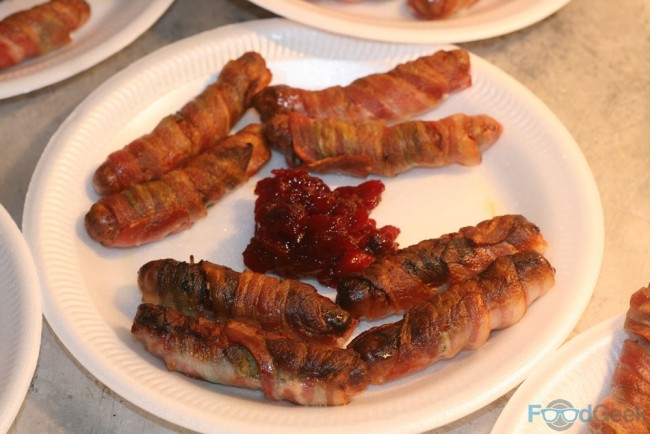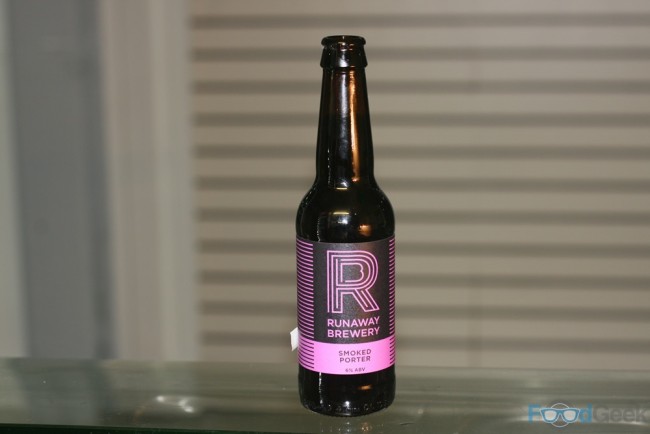 Next up, cheese. Festive 'Wensleydale with Cranberries', served with 'Hiver', a blonde beer brewed with real honey.
Cheese and honey is a classic combination – particularly Wensleydale – so the flavours are already a good fit. There's a hint of citrus in the beer that pairs brilliantly with the cranberries and balances the sweetness perfectly. Plus, it's dry, crisp and refreshing while the bubbles help to lift the cheese from the palate.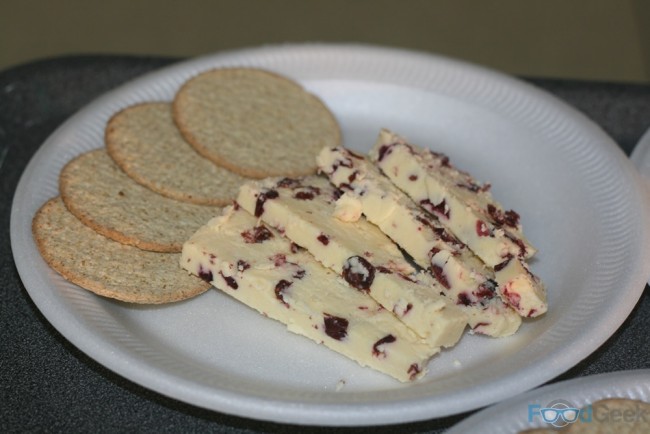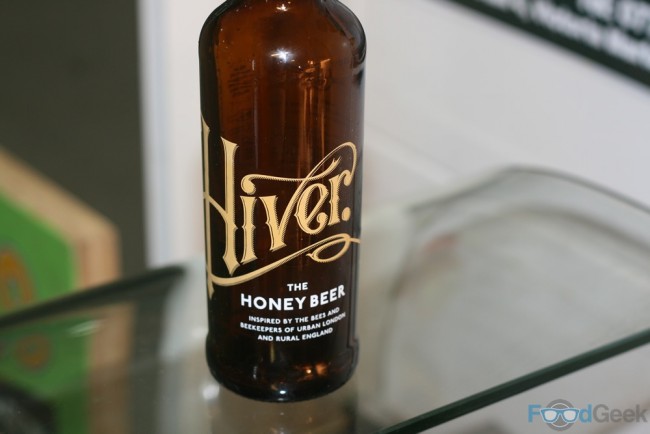 For the final course, one of my favourite things to make, 'Mince Pie Cookies'. Guaranteed to convert even the strongest mince pie haters. All the flavours of a mince pie are there but it somehow tastes so much better mixed through a soft, crumbly cookie dough than in a pie. They went down brilliantly well at Wigan and it was exactly the same here.
I served the cookies with 'Peerless Oatmeal Stout' a black, full bodied stout brewed with oats to give a smooth, rich mouthfeel that compliments the texture of the cookie. The flavours are a match made in heaven too; there's coffee and a bit of chocolate – flavours that just work with cookies and biscuits – but also dried dark fruits that matched the flavours in the mincemeat and toffee/caramel notes that worked so well with the brown sugar in the cookie.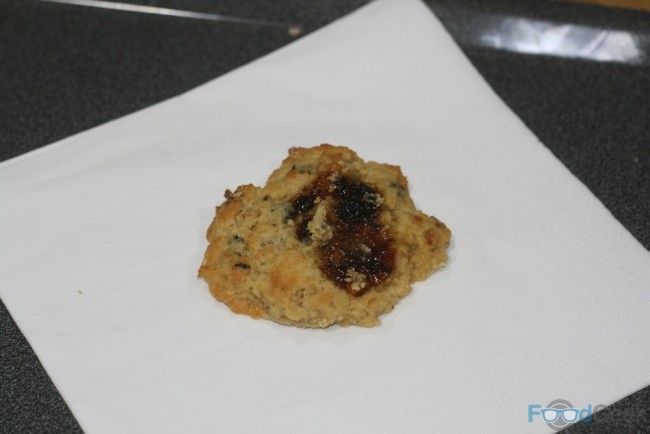 I was very happy with the event; all of the food turned out as I hoped, the beers were great and the pairings worked well. More importantly the guests agreed and everybody had a brilliant night.
At just £10 per ticket the event was already fantastic value, yet Steve was feeling so festive he bought everybody a drink of their choice at the end too.
It was my third event with Great Ale Year Round but my first with Steve & Anne, hopefully it won't be the last as they were an absolute joy to work with. We already have ideas for future events so watch this space.
Date of event: 19.01.2014
All of the beers used are available to buy from Great Ale.
Interested in attending future events?
Events like this sell out quickly, be the first to know when future events are released simply by entering your name and email address below.
[gravityform id="3″ name="Food Geek Events" title="false" description="false"]
Follow @BeerGeekBlog
Follow @FoodGeekUK